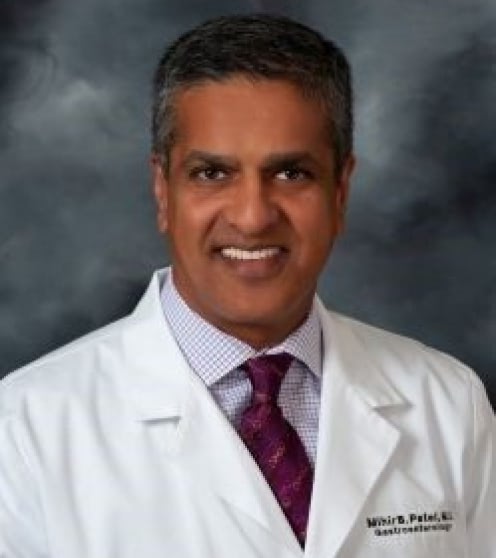 Mihir Patel, M.D.
Gastroenterologist
---
Primary Location
3901 66th St. N.
Ste. 201
St. Petersburg, FL 33709
all locations
About Mihir Patel, M.D.
Dr. Patel obtained his medical degree from The State University of Gujarat, India. He completed residency in Internal Medicine from The State University of New York at Stonybrook, NY in 2000. He obtained three years of fellowship training in Gastroenterology and Hepatology at The University of Texas, Houston and M.D. Anderson Cancer Center. He has been in private practice since 2003. He is a Diplomate of the American Board of Internal Medicine and board certified in Gastroenterology. His areas of interest are colon cancer screening and liver and biliary tract disease. He is a member of The American Gastroenterology Association, The American College of Gastroenterology and The American Society of Gastrointestinal Endoscopy.
Conditons & Procedures
Abdominal Pain
Acid Reflux & Gerd
Anal Fissures
Anal Fistulas
Anal Itch
Anemia
Anorectal Stenosis
Barrett's Esophagus
Biliary Disease
Celiac Disease
Cirrhosis
Clostridium Difficile (C.Diff)
Colitis
Colon Diseases & Polyps
Colon Fistula
Colorectal (Colon) Cancer
Constipation
Crohn's & Ulcerative Colitis
Diarrhea
Diverticulitis
Dyspepsia
Dysphagia
Esophageal Disease
Fatty Liver Disease
Fecal Incontinence
Gallbladder Disease
Gallstones
Gastritis
Gastrointestinal Bleeding
Gastroparesis
H. Pylori
Hemorrhoids
Hepatitis
Indigestion
Inflammatory Bowel Disease
Irritable Bowel Syndrome
Liver Disease
Non-alcoholic Steatohepatitis
Obesity
Pancreatic Cystic
Pancreatic Disease & Pancreatitis
Pelvic Floor Pain
Peptic Ulcer Disease
Radiation Proctitis
Rectal Ulcer
Short Bowel Syndrome
Small Intestinal Disorders
Stomach Cancer
Swallowing Disorders
Anoscopy
Capsule Endoscopy
Colonoscopy (Screening & Diagnostic)
EGD (Upper Endoscopy)
Endoscopic Mucosal Resection (EMR)
Enteroscopy (Small & Large Bowel)
ERCP & Stents
Esophageal Ablation
Esophageal Dilation
Flexible Sigmoidoscopy
Hemorrhoid Treatment & Banding
PEG Placement
Office Locations
Primary Location
Gastro Florida - St Pete 66th Street
3901 66th St. N
Ste. 201
Saint Petersburg, FL 33709

Phone: (727) 345-5500
Fax: (727) 302-0550
---
Additional Locations
Gastro Florida - Clearwater Ft Harrison
1300 S. Fort Harrison Ave.
Ste. 100
Clearwater, FL 33756

Phone: (727) 447-3100
Fax: (727) 302-0550
Gastro Florida - Downtown St. Pete Jackson
560 Jackson St. N
Ste. 100
Saint Petersburg, FL 33705

Phone: (727) 214-1414
Fax: (727) 302-0550
St. Petersburg Endoscopy Center
West Coast Endoscopy Center
Bayfront Health
HCA Florida Largo Hospital
HCA Florida Northside Hospital
HCA Florida St. Petersburg Hospital
Morton Plant Hospital
St. Anthony's Hospital
Education
MEDICAL
The State University of Gujarat - India
RESIDENCY
The State University of New York - Stonybrook, NY
Fellowship
The University of Texas - Houston, TX M.D. Anderson Cancer Center - Houston, TX
Professional Highlights
Certifications
Board-certified in Gastroenterology
Professional Organizations
American College of Gastroenterology
American Society of Gastrointestinal Endoscopy