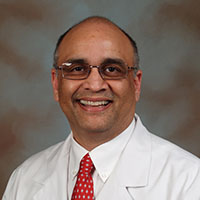 Dilip Ghanekar, M.D.
Gastroenterologist
---
Primary Location
10820 SR-54 Ste. 201
Trinity, FL 34655
all locations
About Dilip Ghanekar, M.D.
Dr. Ghanekar was raised in Brooklyn, New York. He completed his residency in Internal Medicine at Englewood Hospital and Medical Center in Englewood, New Jersey. In the final year of his residency, he served as chief resident. In 1997, Dr. Ghanekar completed his fellowship in gastroenterology at the Mayo Clinic in Rochester, Minnesota .This rigorous 4 year fellowship included NIH funded research in Pancreatic Disease. In 1997 Dr. Ghanekar was appointed as a attending gastroenterologist to the staff of University of Pittsburgh Medical Center. During his 2 years there he supervised and taught medical residents and GI fellows. Dr. Ghanekar has been with Gastroenterology Associates of West Florida since 1999. He prizes commitment to quality and aims to provide compassionate patient care. Dr Ghanekar strongly believes in the importance of helping his patients understand their disease or symptoms. In June 2012, this commitment to his patients was recognized by the BayCare Heath System and Dr. Ghanekar was awarded the Excellence in Medicine Award. Dr. Ghanekar enjoys volunteering abroad and every year takes part in a four day medical clinic in Haiti through a local organization called People for Haiti.
Conditons & Procedures
Abdominal Pain
Acid Reflux & Gerd
Anal Abscess
Anal Fissures
Anal Fistulas
Anal Itch
Anemia
Anorectal Stenosis
Barrett's Esophagus
Biliary Disease
Celiac Disease
Cirrhosis
Clostridium Difficile (C.Diff)
Colitis
Colon Cancer Screening
Colon Diseases & Polyps
Colon Fistula
Colorectal (Colon) Cancer
Constipation
Crohn's & Ulcerative Colitis
Diarrhea
Diverticulitis
Dyspepsia
Dysphagia
Esophageal Disease
Fatty Liver Disease
Fecal Incontinence
Gallbladder Disease
Gallstones
Gastritis
Gastrointestinal Bleeding
Gastroparesis
H. Pylori
Hemorrhoids
Hepatitis
Indigestion
Inflammatory Bowel Disease
Irritable Bowel Syndrome
Liver Disease
Non-alcoholic Steatohepatitis
Pancreatic Cystic
Pancreatic Disease & Pancreatitis
Peptic Ulcer Disease
Radiation Proctitis
Rectal Ulcer
Short Bowel Syndrome
Small Intestinal Disorders
Stomach Cancer
Swallowing Disorders
Balloon-Assisted Enteroscopy
Capsule Endoscopy
Cholecystectomy (laparoscopic)
Colonoscopy (Screening & Diagnostic)
EGD (Upper Endoscopy)
Endoscopic Mucosal Resection (EMR)
Enteroscopy (Small & Large Bowel)
ERCP & Stents
Esophageal & Colonic Stenting
Esophageal Ablation
Esophageal Dilation
Esophageal Manometry
Esophageal pH Testing (Bravo)
Esophageal pH Testing (Breath Test)
Flexible Sigmoidoscopy
Hemorrhoid Treatment & Banding
Office Locations
Primary Location
Gastro Florida - Trinity SR-54
10820 SR-54
Suite 201
Trinity, FL 34655
Phone: (727) 846-7031
Fax: (727) 846-7132
---
Additional Locations
Gastro Florida - Bayonet Point
7515 SR-52
Suite 105
Hudson, FL 34667
Phone: (727) 846-7031
Fax: (727) 846-7132
BayCare Surgery Center - Trinity
Bayonet Point Endoscopy Center
BayCare Northbay Hospital
HCA Bayonet Point Hospital
HCA Florida Trinity Hospital
Education
MEDICAL
Englewood Hospital and Medical Center - Englewood, NJ
RESIDENCY
Englewood Hospital and Medical Center - Englewood, NJ
Fellowship
Mayo Clinic - Rochester, MN
Professional Highlights
Certifications
Board-certified in Gastroenterology
Board-certified in Internal Medicine
Awards & Recognition
Excellence in Medicine Award, BayCare Health System - 2012
Professional Organizations
American Gastroenterological Association
American College of Gastroenterology
American Society of Gastrointestinal Endoscopy